Pregnancy is a highly complex step for women. And it also comes with many complications and health complications and health problems. So if a woman is not ready to carry on pregnancy, she should get an abortion. And the abortion procedure must be accessible and less complicated.
In this article, we will discuss bout the most effective and efficient abortion treatment called Contrakit Tablet. These tablets are the best abortion option for women. We will discuss more about this kit and the right process for using this treatment.
Introduction to Contrakit
For a long time, women have been getting surgeries and other dangerous treatments to get abortions. But with the Contrakit Pills, this abortion treatment has got much easier. Contrakit is a pack of two tablets that end the pregnancy without complications.
The Contrakit has two major pills called Mifepristone and Misoprostol. These two pills are to be used at separate times and have separate effects on the body. Los, before taking the Contrakit, it is very important to consult with a doctor to be safe.
Benefits of Contrakit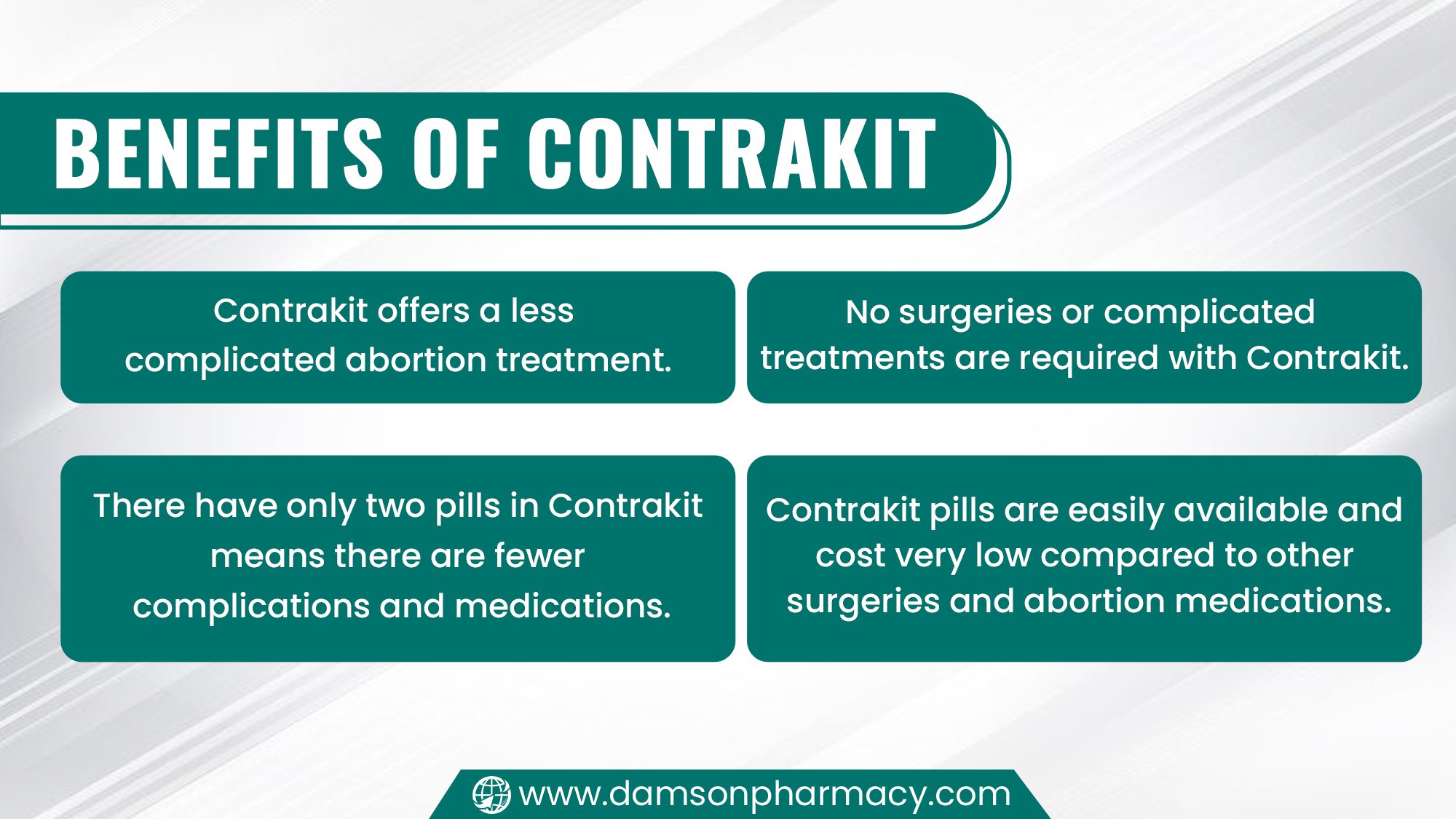 Contrakit pills are considered much more beneficial than all the other abortion techniques. This kit is safer, more effective and less expensive than all the other medications and surgeries for abortion. Some of the amazing benefits of using Contrakit are mentioned below.
Contrakit offers a less complicated abortion treatment.
No surgeries or complicated treatments are required with Contrakit.
Contrakit abortion is a private treatment where only the patient and his pharmacist or doctor know about the abortion.
There have only two pills in Contrakit means there are fewer complications and medications.
Contrakit pills are easily available and cost very low compared to other surgeries and abortion medications.
How to Take Contrakit Pills?
The process of taking Contrakit pills is very easy yet a bit confusing for some people. Even though there are only two medications, the time the patient takes them is highly confusing. For our readers, we have divided the Contrakit into two tablets and discussed the exact procedure of ting them.
Mifepristone
The first medicine patient will be taking is Mifepristone 200mg. Before taking this pill, make sure that the pregnancy is no longer than 10 weeks. After 10 weeks, the baby is very much developed and taking Mifepristone can cause serious side effects.
Mifepristone is only available to take orally. And after taking Mifepristone patient has to wait for at least 48 hours before taking another pill. This pill can cause stomach pain and cramps, but no major risk or side effect exists.
Misoprostol
Misoprostol 200mcg is the dose after 48 hours of taking Mifepristone. This medicine is not to swallow or bite. Patients just need to put this pill in their mouth for some and let it dissolve on its own.
Another way of taking Misoprostol is by the vagina. But the patient can use the way she is comfortable with. This medicine will stop the hormones carrying the pregnancy, and the uterus will contract, causing the abortion.
Where to Purchase Contrakit Tablet?
A very major part of getting an abortion is getting a high-quality Contrakit. If the medication you're using for abortion is not original, it will cause many side effects and health problems. We suggest you all use the Damson Pharmacy to purchase your abortion kits.
This store offers all the abortion medication at very reasonable rates. You can even find alternatives to Contrakit, like MTP Kit. This store has a worldwide delivery service. They can deliver your order in just a few days.
Precautions
The use of Abortion Pills requires a lot of care and precautions. Even a single mistake can be very dangerous for the patient's health. There are some precautionary measures doctors suggest for women getting abortions. We have shared these safety measures below.
Keep the medications away from children and undergo adults.
Don't take Contrakit pills if you're over 10 weeks of pregnancy.
Keep your doctor updated bout your health conditions and side effects.
Make sure to consult with your doctor before taking any Birth Control Pills.
Avoid using alcohol while getting abortion treatment.
Follow a healthy diet and avoid any high-cholesterol food.
Possible Side Effects of Contrakit
We have shared some of the possible side effects of Contrakit pills. These side effects are not threatening, but the patient must know the possibilities. You should report to your doctor if you identify any side effects after taking Contrakit pills.
Uterine Contraction
Vaginal bleeding
Nausea
Vomiting
Fever
Stomach Pin
Bottom Line
Abortion should be an easily accessible treatment. And the process should be easier and less complicated. The surgeries are extremely dangerous to carry on women, and they're very expensive as well. However, the Contrakit Tablets are the safe and easy abortion method.
We suggest that women looking for abortion use the Contrakit method. And also, make sure to consult with your doctor before taking the pills from Contrakit. Let your doctor guide you completely bout the procedure and steps often abortion.
Reference