Days full of stress do not only affect our mental health but also our physical health. Stress and anxiety can also influence our sexual life and can cause various problems such as erectile dysfunction.
While treating it is necessary to build a better relationship with your partner. Therefore, many people choose Libido Max Vs Viagra for getting rid of this problem.
However, many people seem to doubt both of them or compare them which creates a lot of confusion on which medicine should be used. Therefore, here we have a detailed comparison of both of the medicines so you can acknowledge what's better for you.
Key Differences of Libido Max Vs Viagra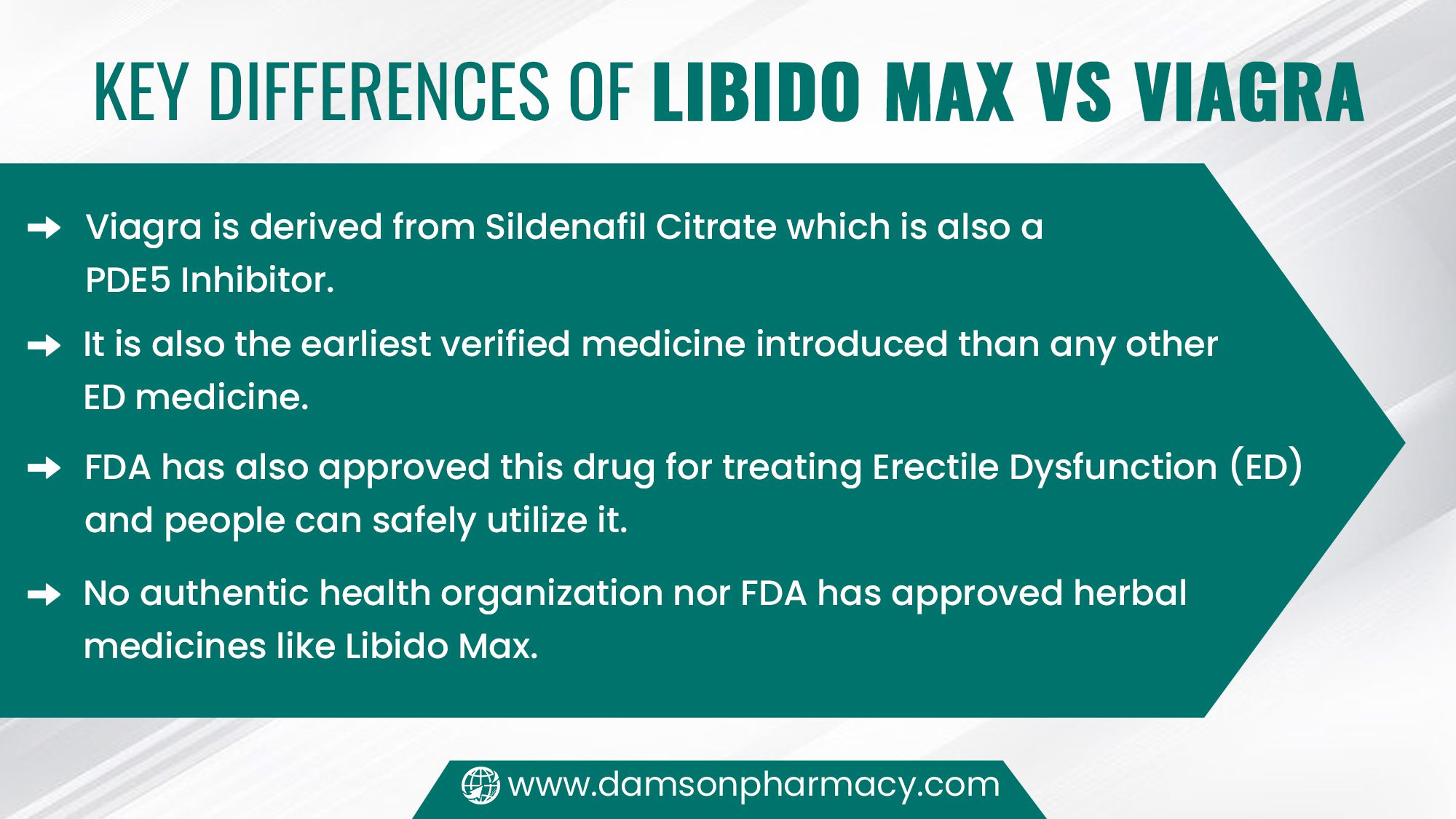 Here are some crucial points that can help you distinguish both of the supplements:
Libido Max is not a pharmaceutical product and is derived from various natural herbs. Therefore, its ingredients are all-natural.
Whereas Viagra is a drug made from various chemical ingredients that are also effective and verified by various health organizations.
Viagra 100mg is legally allowed to be sold and people can use it since it is manufactured in a trusted pharmaceutical company.
L-arginine, Ginseng extract, Yohimbe extract, and powder of Ashwagandha are the natural ingredients of Libido Max.
Viagra is derived from Sildenafil Citrate which is also a PDE5 Inhibitor.
It is also the earliest verified medicine introduced than any other ED medicine.
FDA has also approved this drug for treating Erectile Dysfunction (ED) and people can safely utilize it.
No authentic health organization nor FDA has approved herbal medicines like Libido Max.
However, what's best for you can only be decided by your health care advisor so discuss with him before using any of these medicines.
Usage Comparison Between Viagra and Libido Max
Unlike other ED supplements, the effects, and side effects of Libido Max are not proven. However, it is suggested to be taken daily and it can naturally maintain your sexual health. Moreover, it does not show effects soon or if it is used once.
Similarly, L-arginine included in this pill increases the blood flow around the genitals to enhance erections. Viagra 50mg is one of the most prescribed drugs for men having sexual dysfunction. 
It is verified that Sildenafil Citrate working as an active ingredient in this drug helps to enhance and maintain erections. However, no one can get an erection without stimulus.
It is tested and proved that the medicine shows its effects after 30 minutes minimum and lasts for 4 to 6 hours. Furthermore, it is prescribed to orally consume once a day. However, the dosage has to be decided by a professional healthcare provider.
Side Effects of Libido Max vs Viagra
Similar to any other medicine, both of these also show some side effects which might not be risky. While libido Max shows fewer side effects than Viagra because it is made of natural herbs. However, these changes are not usually risky and end in some time.
If your conditions get worse or you cannot get rid of side effects, then you should ask for medical help.
Side Effects of Viagra
Headaches
Feeling nauseous
Flushing
Indigestion
Stuffy nose
Dizziness
Irregular heartbeat
Blurred vision or colorblindness (in rare cases only)
Side Effects of Libido Max
Mild Headaches
Dizziness
Nausea
Indigestion
Viagra might also react with some foods or medicines such as nitrates, cardiac medicines, Minoxidil, and Acebutolol. Meanwhile, the risky interaction of herbal medicine is unknown.
Which is Easily Available: Libido Max or Viagra?
Viagra is a popular drug and commonly used by men therefore it is easily available in all pharmacies or online medical stores. Whereas Libido Max might not be found in all pharmacies but you can skillfully get both drugs from Damson Pharmacy. 
Moreover, you can buy Libido Max without any prescription as it is a natural supplement. Unlikely, Viagra cannot be bought without an authentic prescription from the doctor. Therefore, you might need the prescription even when you are shopping online.
Which One Is Better According to The Experts: Libido Max or Viagra?
Professional healthcare providers suggest Viagra as one of the best remedies for ED. It is a quick way to get rid of erection problems temporarily. Moreover, it can give you desired results in less than an hour. Also, it is manufactured by Pfizer which is a very well-known and trusted pharmaceutical company that's why it is preferred by many doctors.
Furthermore, Libido Max is an herbal treatment that can only be effective if you take it daily and it is not a quick treatment. Moreover, the effects are not even guaranteed and the side effects are also unknown. Therefore, we should avoid using those medicines which are not licensed.
Health experts also suggest Viagra vs Sildenafil because it is a licensed drug and tested by many people. Similarly, the side effects and working of this drug are well known by doctors. Therefore, they can easily treat in case of interaction or severity of effects.
FAQs – Frequently Asked Questions
Can Women Take Libido Max or Viagra?
No woman shouldn't take Libido Max or Viagra. It can be risky as this drug is not made for women or children. So, if a woman is suffering from sexual dysfunction then she should take female dysfunction medicines prescribed by the doctor.
Can I Take Viagra Along with Libido Max?
Since both Libido Max and Viagra have same purpose and effect. Therefore, there's a high risk of interaction which might lead to high blood pressure or other critical health conditions.
At What Age Can I Take Libido, Max?
Men older than 18 years old can use this supplement. Also, it is strictly prohibited for children and women. Therefore, keep these supplements away from the reach of the kids.
Conclusion
People might be confused between herbal remedies or medical treatments but you should choose what's better for you. Libido Max is not a bad option when you don't need immediate effects however, Viagra is always the best way to get rid of ED.
References