We all know the best about our bodies and the changes we want with our bodies. And having a child is one of the decisions only a woman should have. But if you have got pregnant somehow and don't want to continue, there is a solution.
Many birth control medications exist, but you cannot try them all. Hence we have compiled this article so you can find the best pills for yourself. We will discuss the MTP Kit vs Unwanted Kit and share information about these treatments.
What is an Unwanted Kit?
An unwanted Kit is a packing of two Abortion Pills. This kit has two medications called Mifepristone and Misoprostol. These two pills are to be used at different times, and each has a different reaction in our body.
Unwanted Kit is an excellent treatment option for pregnant women who don't want to continue their pregnancy. This is a safer treatment than surgery or any other treatment available.
Use and Working of Unwanted Kit
We have shared the work of the Unwanted Kit on pregnant women. We have discussed the reaction it has after a woman takes it. This will also be considered as a guide for the use process of the MTP Kit or Unwanted Kit.
MTP Kit can be used if you are below 11 weeks pregnant.
First, you will take the Mifepristone pill with water. And then wait for 24 to 48 hours.
Mifepristone will block the pregnancy enzyme in your body. It stops the growth in the uterus.
After waiting for two days after Mifepristone intake, you can take the Misoprostol pills.
The Misoprostol pills are not to swallow; you will keep it under your tongue for at least 30 minutes.
Misoprostol will contract the womb to push the embryo out of the uterus. This can will cause bleeding and cramps.
After 30 minutes have passed drink some water to clean up your mouth.
MTP Kit vs Unwanted Kit: Which is better?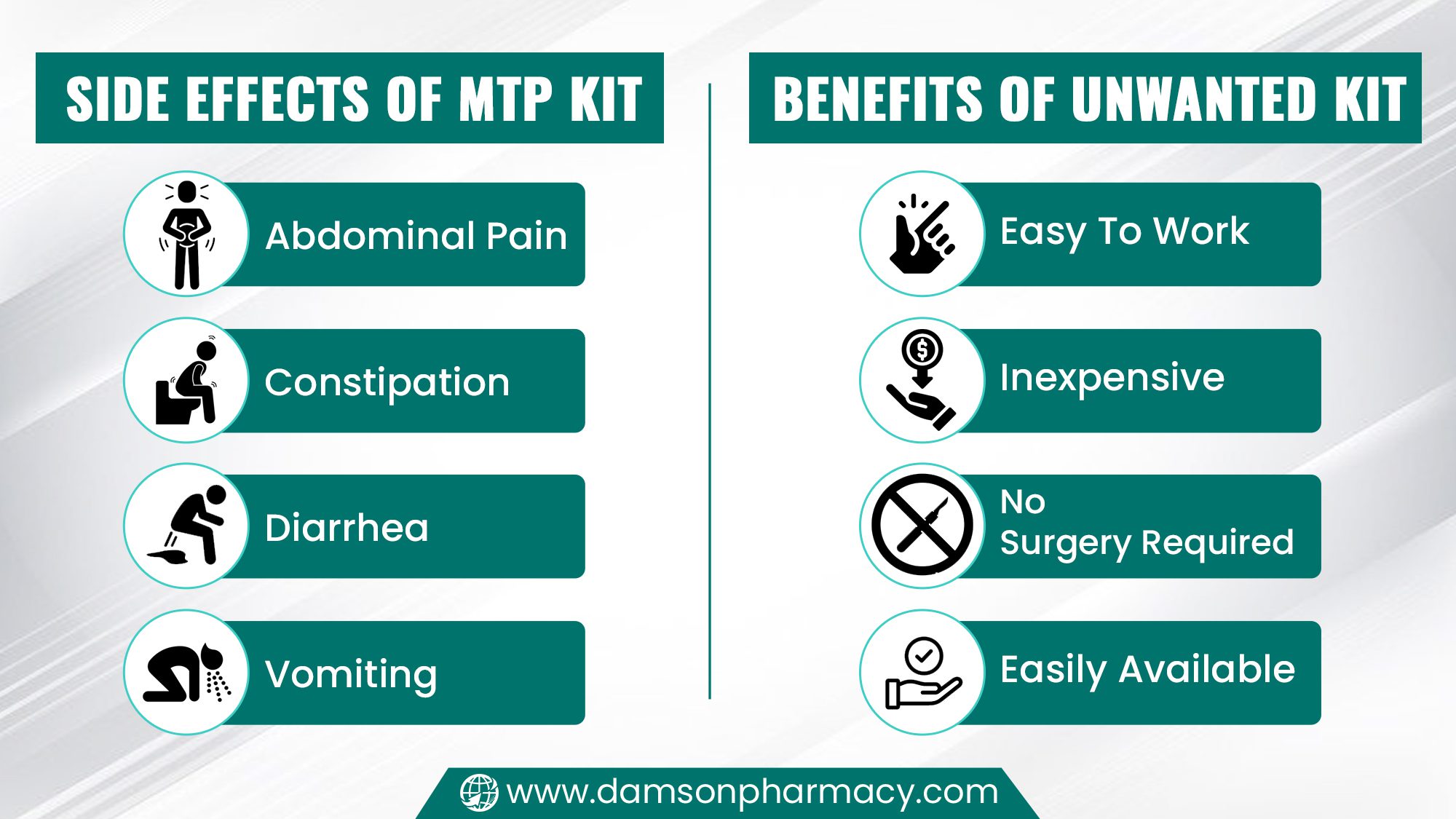 Most people get confused between MTP Kit and Unwanted Kit. They think these two are different treatments for birth control. However, these are just two different names for the same treatment.
MTP Kit and Unwanted Kit both consist of two medications, Mifepristone 200mg and Misoprostol. These two kits have the same working mode and have the same effect on women's pregnancies.
There is another kit called Contrakit which can be said to be different than MTP and Unwanted Kit because of dosage and packing. But the MTP Kit and Unwanted Kit are both exactly the same kits with different names.
Benefits of Unwanted Kit
Unwanted Kit is better for birth control than any other treatment. It has many benefits that make it the better option for women. We have shared the benefits of the Unwanted Kit below.
Easy To Work
The unwanted kit is very easy to use. This kit only has Birth Control Pills that the patient needs to take one after the other. And the pills will do all the work. Rather than surgeries and a long list of medication MTP Kit is way better in this sense.
Inexpensive
The Unwanted Kit is a very inexpensive treatment for birth control. We all are aware of the expensive surgeries for abortion, and they are also very dangerous for women's health. However, the Unwanted Kit is both safe and cheap.
No Surgery Required
For the women who use the Unwanted Kit, no surgery is required. The Unwanted Kit resolves the problem of pregnancy within a few days only. And once the aftereffects are all gone, no further treatment is required.
Privacy
For most women, the biggest problem with abortion is the lack of privacy. However, with Unwanted Kit, only you know about the treatment you are going through. You can purchase the Unwanted Kit online and start the treatment yourself.
Easily Available
Abortion surgeries are banned in many countries and states. But these Unwanted Kits are available everywhere. You can get it from a nearby pharmacy or order it online. This easy availability makes Unwanted Kit very beneficial.
Side Effects of MTP Kit
The use of an MTP Kit can cause some side effects. In most cases, medical attention is not required during these side effects. Still, you should be aware of the possible side effects of the Unwanted Kit. The common side effects are listed below.
Abdominal Pain
Constipation
Diarrhea
Vomiting
Extreme Fatigue
Cramps
One of the side effects of the MTP Kit is menstrual bleeding. And if this bleeding gets heavy and doesn't stop, you should get medical attention for over bleeding. This can cause weakness, but this is not fatal for women.
Where to Purchase MTP Kit From?
While buying the MTP Kit, we must ensure its quality. In most cases, side effects appear because the kit is not genuine. You must choose a trusted pharmacy or medical store to purchase your Unwanted Kit.
At the Damson Pharmacy, all the medications are 100% original and FDA-approved. You can get the MTP Kit at very inexpensive rates and in the best quality as well. This store also offers worldwide delivery in countries like America, the UK, Italy, Germany, Canada, etc.
Precautions for Using an Unwanted Kit
Before taking the Unwanted Kit, you must remember some warnings and precautions. These are the safety measures that will keep you safe during the treatment. Make sure to read these precautions before using MTP Kit.
Women shouldn't take MTP Kit if they are allergic to Mifepristone or Misoprostol 200mcg.
Heart patients cannot take MTP Kit without a doctor's consent.
A person with a blood-related problem cannot take MTP Kit.
MTP Kit can cause dizziness and sleepiness. Hence you shouldn't drive after taking it.
Avoid alcohol consumption while using MTP Kit.
Conclusion
By reading this article, you must be more aware of the MTP Kit vs Unwanted Kit. These are two different names for the same treatments. But a very safe and efficient birth control treatment than surgery.
Even though this medicine can be used without a doctor's prescription. We still recommend our readers consult with you before taking any medication. Doctor's advice keep us safe from any possible side effects.
References